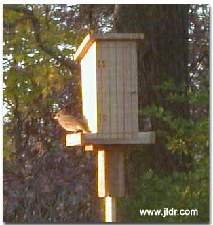 Order Outhouse Bird Feeder with Conduit Mounting Kit
Order Outhouse Bird Feeder with 4x4 Post mount kit
Order the one you need; We offer a Conduit Mount Kit and a 4" x 4" Post Mount Kit. The price is the same for each.
Price: $32.99 USD
(+ $25.00 US (only) Shipping, Packaging & Handling)
Total Price (including shipping): $57.99 USD
Important Note: The shipping charges have been increasing dramatically lately. If the shipping is more than $25, we will have to charge a bit more to your order. We will contact you prior to charging your card with the exact price. Thank you for understanding.

The Outhouse Bird Feeder is made of all cedar wood and each one we make literally takes hours to build...AND...they are Made in the U.S.A. Each one is also unique because of the natural grain characteristics of our wood. The nominal dimensions are as follows:
14 1/4" high
5 3/8" wide
The base is 9 3/4" wide
It is 7" deep
(dimensions do not include the mounting support). Just so you know, the dimensions may vary a bit based on how the saw mill cuts the lumber.

The feeder holds about 3 lbs of black oil sunflower seeds.

We are offering the feeder with two different pole mounting options:
Option 1 - As shown in the pictures, mounting on a piece of 1" EMT (thinwall) electrical conduit (1 3/16" O.D.)
Option 2 - Mount on a 4"x4" wood post that people may have on their deck (actual post dimensions 3 1/2" x 3 1/2").
Important: When ordering, specify the mount type by pressing the correct order button.
---