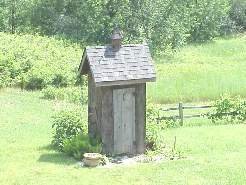 Garden Outhouse Plans
New Lower Price: $19.95 USD
Some time ago, I received an Email with this picture of an outhouse. The email told me a little about an outhouse that he built on his property. Here is what the owner had to say:
"Hey, just loved you website on "Outhouses". Thanks for all the work you put into the website; it was fun looking. I am enclosing a picture of our Outhouse. You are welcome to use it if you wish."
Use it I did and after a few Emails, he told me that he was a builder and could draw up plans for the Outhouse. What he drew up is a set of first class plans to build the Outhouse shown here. It really isn't all that hard and he also includes a materials list and his Email address in case you have problems. You can actually make it a "working Outhouse" or you can choose not to dig the hole and use it as a decorative shed. The plans definitely could be used to build a functional Outhouse with some slight modifications, digging the hole being the biggest and proper staking or other method of attachment to prevent blow-over.


What you will receive via Email to the PayPal Email address that you buy the plans with:
Two PDF files containing plans and pictures of the Garden Outhouse. Details below...
A PDF file with ten (10) pages of the plans necessary to build the Outhouse.
A PDF file with Eighteen (18) pages of Pictures showing the inside and outside of the Outhouse for reference. These will also be in PDF format.
Each page of the plans is like a blueprint clearly showing how to build it.
A Materials List so you know what lumber and materials to buy.
Once again, we will Email these two PDF files to you using your PayPal Email address. When you pay using PayPal, they send us your Email address to verify the sale.
---