The cement base of a WPA Outhoue built in the mid 1900s
Photo taken by Guy T.
Used by permission
---
The contributor of this picture was told about The Outhouses of America Tour website and thought this might interest to us. He was right! We are. In New Jersey, they have what are called the NJ Pine Barrens. It consists of thousands of acres of woods with a rich history in Cranberry growing and gun clubs. Obviously, outhouses were needed for the cranberry workers years ago as well as the hunters at the gun clubs. While visiting the ruins of one such club he found this cement object and sent us the picture inquiring about what it was.
The WPA design was quite popular years ago. He was thinking that since they are located in various area's around here, they were either mass produced or built on the spot. This is not something the history books would talk much about so he really had no idea what actually occurred. In any event, it was quite interesting at least to him. These were actually built years ago by the WPA and were called WPA outhouses. We have several pictures of others on our site. They were all built the same way with a cement base and the "seat" was angled away from the corner. Here is a very good example of one with an explanation about who, why and when they were built:
WPA Outhouse Example
---
What else can you see in the images shown? Many times a photo is worth a thousand words and I've only elaborated with a few so why don't you add some "color commentary" to my collection. If your addition is worthy, you will find the quote added on the Comments to the Curator page.


---
Stamp here to "dump" mail to the official Outhouse Curator...

---
Have you seen all the Outhouses yet?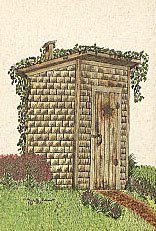 Return to the Outhouse Tour by clicking HERE!


Return to my home page
Return to the Top
RECOMMEND THIS SITE TO A FRIEND!
---
Copyright © 2007


This Page was created on December 10, 2007