Check out the 1890 foundation!
Photo contributed by Bruce
Used by permission
---
We received this picture from a contributor. A neighbor of his sent this photo of an outhouse located about 800 feet from his property. Apparently, it's an outhouse that can be seen from his neighbor's property. It appears a bit precarious in the foundation! He is guessing the outhouse was built about 1890.
---
What else can you see in the images shown? Many times a photo is worth a thousand words and I've only elaborated with a few so why don't you add some "color commentary" to my collection. If your addition is worthy, you will find the quote added on the Comments to the Curator page.


---
Stamp here to "dump" mail to the official Outhouse Curator...

---
Have you seen all the Outhouses yet?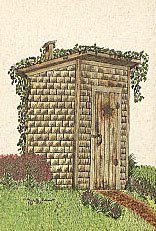 Return to the Outhouse Tour by clicking HERE!


Return to my home page
Return to the Top
RECOMMEND THIS SITE TO A FRIEND!
---
Copyright © 2010


This Page was created on April 17, 2010