5-Holer Outhouse built in the 1800s
Photo from Thomas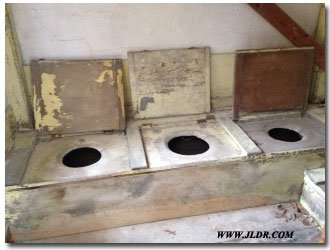 5-Holer Outhouse built in the 1800s
Photo from Thomas
5-Holer Outhouse built in the 1800s
Photo from Thomas
5-Holer Outhouse built in the 1800s
Photo from Thomas
5-Holer Outhouse built in the 1800s
Photo from Thomas
5-Holer Outhouse built in the 1800s
Photo from Thomas
5-Holer Outhouse built in the 1800s
Photo from Thomas
---
Thomas contacted me about an 1800's 5-Holer Outhouse that is on his property. He wants to sell it! Details from Thomas are below...
He's been researching 5-Holer Outhouses for a while and has yet to come across a five holer! The previous owners tried to match the inside of the outhouse with the house on the property. This outhouse has plaster walls, a nice window and trim similar to parts of his house.
The original part of his home was built in 1785. His house is actually called the five chimney house. It has granite hearth fireplaces in every room plus a bee hive oven in the basement. It's odd because every house around his built at that time was center chimney. When you walk in his front door, there is a huge foyer with a archway and 4 rooms off that with the fireplaces. He knows that the original owner was a sheep herder and he owned all the property on his road. He's thinking the sheep herder had this extra detail in the house and a five hole outhouse for all his clients that came to purchase the wool. The house and the outhouse are not typical of what you would usually see especially being a farmhouse.
The outhouse needs a little work to be complete. It has had a partial renovation. The exterior is in about prefect shape. It just needs some clapboards in the front and a door. He does have doors left over from his house restoration that would fit. Some doors still have the orginal hardware. He would offer a door with the purchase of the 5-holer. The inside needs to have the plaster fixed. The one picture shows that above. It also has to be sanded and stained. Besides that it's ready to go.
Thomas has a boom truck that can load the building onto a trailer. The exterior dimensions are about 77 x84 inches wide and 10 ft to the roof peak. He estimates it weighs around 1200 pounds.
He is asking $2500 or best offer. He's a reasonable person and will listen to any reasonable offer. It's located in GRISWOLD, CT and he can be reached at 860-334-1927.

---
What else can you see in the images shown? Many times a photo is worth a thousand words and I've only elaborated with a few so why don't you add some "color commentary" to my collection. If your addition is worthy, you will find the quote added on the Comments to the Curator page. For additional comments, begin on this page and click the links to see all the years...
---
Have you seen all the Outhouses yet?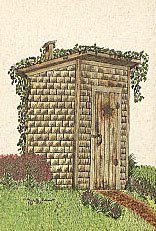 Return to the Outhouse Tour by clicking HERE!
---
Stamp here to "dump" mail to the official Outhouse Curator...


Return to my home page
Return to the Top
RECOMMEND THIS SITE TO A FRIEND!
---
Copyright © 2013


This Page was created on December 7, 2013