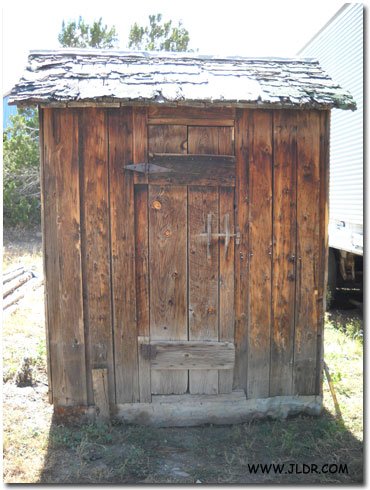 1900's Outhouse For Sale
Photo contributed by Kerry
Used by permission
1900's Outhouse For Sale
Photo contributed by Kerry
Used by permission
1900's Outhouse For Sale
Photo contributed by Kerry
Used by permission
---
Dateline: October 2010
Kerry writes "We have a very old outhouse from the early 1900's that is in great shape for sale. Do you know anyone who buys old out houses? it's located in Aguilar, Colorado, but we can deliver it anywhere for $1.00/mile. It is 6' wide and 4' deep it has two seats inside and it's in excellent orig. shape."
If you are interested, contact the Curator of the Outhouses of America Tour and we will contact the owner. We are still waiting for the price.

---
What else can you see in the images shown? Many times a photo is worth a thousand words and I've only elaborated with a few so why don't you add some "color commentary" to my collection. If your addition is worthy, you will find the quote added on the Comments to the Curator page.


---
Stamp here to "dump" mail to the official Outhouse Curator...

---
Have you seen all the Outhouses yet?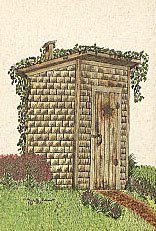 Return to the Outhouse Tour by clicking HERE!


Return to my home page
Return to the Top
RECOMMEND THIS SITE TO A FRIEND!
---
Copyright © 2010


This Page was created on October 6, 2010