El Calafate, Argentina Outhouse near Antartica
Photo from Marc B.
It was my birthday the other day and my old college roommate surprised me by sending the above picture. He is a photography nut like me and takes great pictures. Here is what he said in his Email...
I've been saving this one up for you for a while. Please find the attached outhouse picture for your collection. It is located outside of El Calafate, Argentina not too for from Antartica. I think it's a great picture! Thank you Marc!
---
What else can you see in the images shown? Many times a photo is worth a thousand words and I've only elaborated with a few so why don't you add some "color commentary" to my collection. If your addition is worthy, you will find the quote added on the Comments to the Curator page. For additional comments, begin on this page and click the links to see all the years...
---
Have you seen all the Outhouses yet?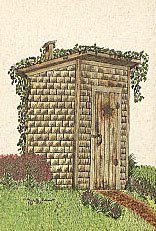 Return to the Outhouse Tour by clicking HERE!
---
Stamp here to "dump" mail to the official Outhouse Curator...


Return to my home page
Return to the Top
RECOMMEND THIS SITE TO A FRIEND!
---
Copyright © 2013


This Page was created on January 16, 2013