St. Marys County Outhouse
Photo contributed by R. Cox
Used by permission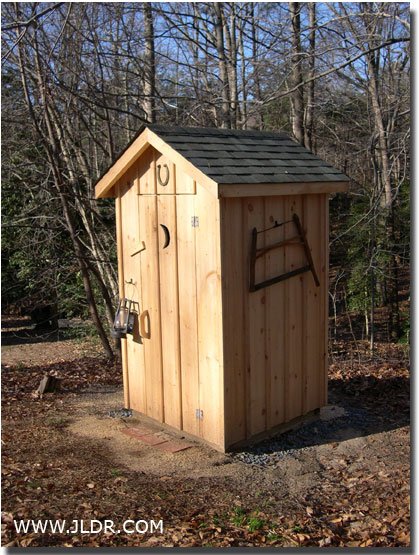 St. Marys County Outhouse
Photo contributed by R. Cox
Used by permission
St. Marys County Outhouse
Photo contributed by R. Cox
Used by permission
St. Marys County Outhouse
Photo contributed by R. Cox
Used by permission
St. Marys County Outhouse
Photo contributed by R. Cox
Used by permission
---
This "garden" outhouse was built by the local Amish in St Marys County Maryland and I must say, it turned out beautiful. The owner is currently adding some antique touches to the outside (Horseshoe above door, wash tub on the side, lantern hanging on the front) and inside (Sears Catalog) of the outhouse.
Shown above are five (5) photographs of the new full-sized, two hole "Outhouse" located behind the contributor's home in Charlotte Hall, MD (St Marys County, Maryland). The dimensions are 4' 31/2" W X 4' 31/2" D X 8' 6" H and it was built by their local Amish craftsman at "Hertzler's Mini-Barns". They have placed the black Barn Star, Amish Buggy Lantern, Amish Horseshoe and a circa 1930 Pennsylvania Buck-Saw on the outside walls.
They are currently looking for a galvanized wash tub to hang on the rear outside wall. They are also thinking about wallpapering the inside walls with old time newspapers as many were done this way in the 1930's and 1940's. They also have an old Sears-Roebuck catalog, which will be added to the interior.
The exterior will have plantings placed around the outside come spring-time. We hope that the outhouse wood will weather well in a short period of time and turn the beautiful gray of the Southern Maryland tabacco barns.
We think this is an excellent addition to The Outhouses of America Tour web site!

---
What else can you see in the images shown? Many times a photo is worth a thousand words and I've only elaborated with a few so why don't you add some "color commentary" to my collection. If your addition is worthy, you will find the quote added on the Comments to the Curator page.


---
Stamp here to "dump" mail to the official Outhouse Curator...

---
Have you seen all the Outhouses yet?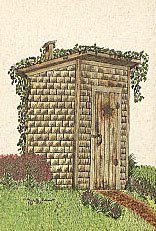 Return to the Outhouse Tour by clicking HERE!


Return to my home page
Return to the Top
RECOMMEND THIS SITE TO A FRIEND!
---
Copyright © 2009


This Page was created on December 10, 2009