The Outhouse before it was restored
Photo from K. Conrad
Used by permission

The restored outhouse
Photo from K. Conrad
Used by permission

&nbsp &nbsp This outhouse was restored by the owners. Take a good look at the roof. As far as the roof goes, it is slate and the owner had not seen a slate roof before on an outhouse. They look forward to the paint cracking on the new slate just as it is on the old ones. They really didn't want to paint it however you can see how bad it was. The man they got it from is an Indian from the midwest who collects Outhouses, corn cribs, etc. He suggested they paint it or it would not last. Recently, the owner was in Adamstown PA and she walked past a booth and over heard a man asking a woman why a shovel had such a long handle? She told him it was for a privy.... The owner went to talk to her husband and a couple they had to meet and she forgot to go back and get it. She wanted to hang it on the side of the outhouse. She went back a week or so later and the vendor was not there but the owner was. She is still so upset she didn't get it when she saw it originally.
---
&nbsp &nbsp What else can you see in the images shown? Many times a photo is worth a thousand words and I've only elaborated with a few so why don't you add some "color commentary" to my collection. If your addition is worthy, you will find the quote added on the Comments to the Curator page.
---
Have you seen all the Outhouses yet?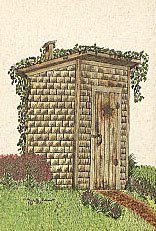 Return to the Outhouse Tour by clicking HERE!
---
Stamp here to "dump" mail to the official Outhouse Curator...

---

Return to my home page
Return to the Top
---
Copyright © 2001
This Home Page was created on September 30, 2001
Most recent revision September 30, 2001