Could this home built Outhouse be worth $1,000?
Photo by D. Crane

Could this home built Outhouse be worth $1,000?
Photo by D. Crane
Hi, My name is Dave Crane and I live in Concord N.H. Last year, myself and a neighbor took down an old 1800's barn in Hancock N.H. Pondering the old weathered siding, I thought for a chuckle I'd build an Outhouse from the salvage. As it turned out I had a guy stop by and offer me $800 BUCKS FOR THE THING! Needless to say, it was sold on the spot.
This year I decided to have another go at it. Not having enough old wood to build it with, I used as much weathered stuff as I could and sided it with cedar shakes. Thought you might get a kick out of it. Who knows? This one might fetch a grand? Seems to be quite an interest up here in Cow Hampshire! Thanx for a very interesting site.
---
What else can you see in the images shown? Many times a photo is worth a thousand words and I've only elaborated with a few so why don't you add some "color commentary" to my collection. If your addition is worthy, you will find the quote added on the Comments to the Curator page.
---
Have you seen all the Outhouses yet?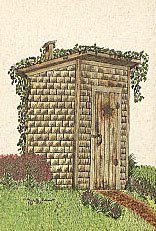 Return to the Outhouse Tour by clicking HERE!
---
Stamp here to "dump" mail to the official Outhouse Curator...


Return to my home page
Return to the Top
RECOMMEND THIS SITE TO A FRIEND!
---
Copyright © 2004


This Page was created on November 28, 2004