New and Old Outhouses in Curran, Michigan
Photo from G. Baum
Used by permission

Inside shot of the new Outhouse
Photo from G. Baum
Used by permission
In the words of the contributor: "THIS IS IN CURRAN MICHIGAN...
OLD AND NEW OUTHOUSE...
CHECK OUT THE ELECTRIC...EVEN GOT A GFI OUTLET...NOW THAT IS LIVIN...
THE OLD OUT HOUSE IS A TWO-HOLER, TIN ROOF AND WAS BUILT SOMETIME AROUND SEPT. 1935...
THE NEW OUT HOUSE WAS BUILT August 2005 BY MY SON...WHO IS NOT A BUILDER BUT A MASTER ELECTRICAN...
IT HAS LIGHTS, A GFI OUTLET. SINCE THE PICTURE WAS TAKEN, THE POWER TO IT IS NOW UNDERGROUND...AND EXHAUST FAN HAS BEEN ADDED...THIS IS ALL DEEP IN THE WOODS OF CURRAN MICHIGAN...THE BLACK BEAR CAPITAL OF MICHIGAN..."
And now you have the rest of the story!
---
What else can you see in the images shown? Many times a photo is worth a thousand words and I've only elaborated with a few so why don't you add some "color commentary" to my collection. If your addition is worthy, you will find the quote added on the Comments to the Curator page.
---
Have you seen all the Outhouses yet?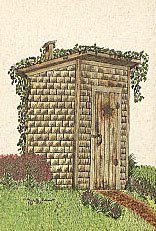 Return to the Outhouse Tour by clicking HERE!
---
Stamp here to "dump" mail to the official Outhouse Curator...


Return to my home page
Return to the Top
RECOMMEND THIS SITE TO A FRIEND!
---
Copyright © 2006


This Page was created on January 25, 2006