Little Falls, MN ATT Tower Outhouse
Photo by E. Westgard

Picture of the former ATT Tower behind the Outhouse
Photo by E. Westgard
Here is another AT&T Tower Outhouse. This Outhouse is located at a site in Little Falls, MN.
The contributor just finished replacing the new roof on their "privy" as it was called on the plans. This particular Outhouse was built in 1954 (a very good year we might add) along with the site. The rot near the ground came from dirt touching the wood siding. Mr. Westgard says they are very impressed by their Outhouse- it has a nice vent, screens, etc. Restoring the Outhouse was a key priority for them. The site is being re-used by the Lakes Area Repeater Association as a Ham Radio emergency network site. Since the curator of the Outhouses of America site is a Ham Radio Operator, this is very nice to hear. When cell phones and local communication stops working like it did during the summer blackout of 2003, Ham Radio will be there to provide emergency communications. This tower is also being rented to commercial customers.
---
What else can you see in the images shown? Many times a photo is worth a thousand words and I've only elaborated with a few so why don't you add some "color commentary" to my collection. If your addition is worthy, you will find the quote added on the Comments to the Curator page.
---
Have you seen all the Outhouses yet?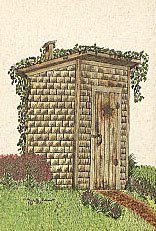 Return to the Outhouse Tour by clicking HERE!
---
Stamp here to "dump" mail to the official Outhouse Curator...


Return to my home page
Return to the Top
RECOMMEND THIS SITE TO A FRIEND!
---
Copyright © 2004


This Home Page was created on February 14, 2004