In 1979, I went on vacation to snorkel and relax in sunny Florida. Little did I know that I would become directly involved with Hurricane David! Of course, when my Christmas letter came out, I had to draw a picture of me and the outhouse flying away in the winds of Hurricane David.
But what do flying and outhouses have in common and I'll bet you're wondering what in the world Flying and Outhouses have to do with me...
It all began with my Mother. Every year at Christmas time, she used to send out cards to all our relatives and inside was a "letter" containing the yearly historical, sometimes hysterical, facts about the Loose's. Well I grew up, went to college, moved to South Dakota and when the first Christmas rolled around, I thought to myself, Why Not!
And so, the time honored tradition in our family continues to this day. Every year choice friends and relatives receive not only a "letter" from my Mom, but a "letter" from my Sister's family and a "letter" from our family all relating historical and hysterical facts about the Loose's and Porterfield's (my Sister's family). If they had saved them each year, by now they should have quite a collection on their hands.
But Wait!
What does this have to do with Flying Outhouse's?
When I was a young boy, some friends of my parents went to Europe for vacation. They flew on one of the first commercial jetliners on BOAC. Remember that airline?
Well, my parents agreed to pick them up so we piled into our car and drove to Bishop Airport. There was an outdoor observation deck so we climbed the stairs and went out onto the roof. When I saw that jet come in to land I knew from that moment on that
I WANTED TO FLY!
A short time later, I managed to get on a field trip to the airport. We took a bus to the airport and an official from a major airline took us under his wings. I remember climbing the stairs to the plane's cabin. It was a DC3 and boy did it look huge to a young boy. The stewardess showed us the cabin and then took us one by one into the cockpit. My eyes must have become as large as saucers when the Captain showed me all the controls and then gave me a souvenir airline kit. It had everything a little boy could ever want in it. From that moment on, I knew someday I would fly.
As I grew up I had two opportunities to take a ride in two different small planes. The first ride was with some friends of ours who owned a small machine shop on their farm and the second was with an Uncle in his Mooney. That sealed my fate.
The rest is history. I learned to fly shortly after college and have been flying ever since.
But what does this have to do with Outhouses...? You'll find out after seeing the actual Outhouse that made me start the Outhouses of America Tour.
The Famous Raccoon Outhouse!
Photo by M. Loose
The Outhouse That Started the Outhouses of America Tour
Photo's by J. Loose - July 1999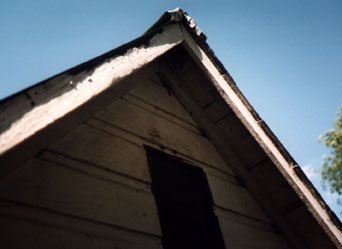 The Outhouse That Started the Outhouses of America Tour
Photo's by J. Loose - July 1999
The Outhouse That Started the Outhouses of America Tour
Photo by J. Loose - July 1999
These are photos I took during July 1999 when I revisited The Outhouse. It had been over 16 years since I had been there so I found it hard to believe it was still there. I so wanted to get inside and take some photographs of the original writings on the wall that my grandfather had written such as "Rained all day today" or "Corn looks great!" but I was unable to get the door open. I was afraid the new owners would catch me but no one appeared. Oh well, maybe next summer I'll get my chance.
At least I was able to preserve its history by taking these pictures.