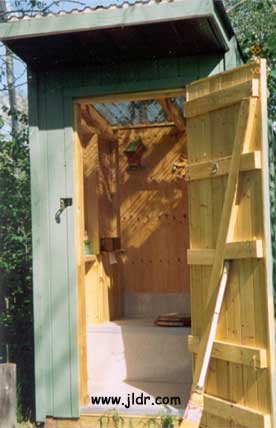 Alberta, Canada Outhouse
Photo by H. Keating

Side view of the Alberta Canada Outhouse
Photo by H. Keating
Mr. Keating built an Outhouse at their cottage at a lake in northern Alberta,Canada following other pictures on the Outhouses of America Tour! For the roof he used smoky plastic roof panels. For the siding he used 6 inch clear pine tongue and groove and then it was varnished clear on the inside and stained forest green on the outside. It cannot be seen in the summer because it blends so well with the foliage. He installed "vented under" eves and made the wall cavity as a vent. The result is an odorless construction. He didn't put in the moon in the door but did have an identical moon mirror, which was installed. Everyone comments on the beautiful "Home and Garden Outhouse" and he thanks us for our pictures. He says "We will be enjoying our construction for a long time to come."
---
What else can you see in the images shown? Many times a photo is worth a thousand words and I've only elaborated with a few so why don't you add some "color commentary" to my collection. If your addition is worthy, you will find the quote added on the Comments to the Curator page.
---
Have you seen all the Outhouses yet?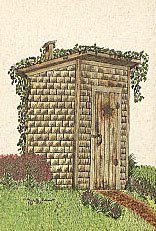 Return to the Outhouse Tour by clicking HERE!
---
Stamp here to "dump" mail to the official Outhouse Curator...


Return to my home page
Return to the Top
RECOMMEND THIS SITE TO A FRIEND!
---
Copyright © 2004


This Home Page was created on February 14, 2004