Indoor Outhouse
Photo taken by H. Baker
Used by permission
Inside the Indoor Outhouse
Photo taken by H. Baker
Used by permission
Door open
Photo taken by H. Baker
Used by permission
Another view of the indoor outhouse
Photo taken by H. Baker
Used by permission
---
TYPICAL OUTHOUSE- NOT!

Don Hunker is a long time resident of Washington County in Forest Grove, Oregon. Back in the Sixties he had a friend in Vancouver, Washington that had built the resemblance of an outhouse inside a double garage. Upon viewing the structure, Don reflected back to his childhood in Orient, South Dakota, where in the middle of the night (when nature called), he would have to get out of bed and walk what seemed like a mile (in the snow, ice and cold) to the outhouse, wondering all the time if his back side would get stuck on the seat from the below freezing weather.
At that time, a dream was born that some day he would have his own indoor outhouse. In 2009, when builders were finished remodeling his house, he had them construct inside his workshop/garage what is reputed as the only indoor outhouse in Washington County, possibly in the state of Oregon.
There is a working (updated) crank telephone, Chandelier from the house entry way, clock, Sears catalog, Elk horn custom toilet paper dispenser and custom wooden toilet seat. Every one has a dream, some big some small. Looks like this dream has been fulfilled!
NO MORE TRAIPSING OUT IN FOUL WEATHER FOR DON TO ANSWER THE CALL OF NATURE.

---
What else can you see in the images shown? Many times a photo is worth a thousand words and I've only elaborated with a few so why don't you add some "color commentary" to my collection. If your addition is worthy, you will find the quote added on the Comments to the Curator page.


---
Stamp here to "dump" mail to the official Outhouse Curator...

---
Have you seen all the Outhouses yet?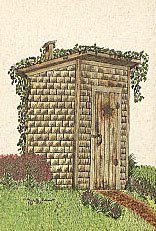 Return to the Outhouse Tour by clicking HERE!


Return to my home page
Return to the Top
RECOMMEND THIS SITE TO A FRIEND!
---
Copyright © 2009


This Page was created on August 8, 2009