---
Johnnie's Homemade Outhouse on
Godwin's Mountain

Great view of the finished outhouse
Photo from J. Godwin
Used by permission

Look what's inside the door!
Quite a view while you are meditating on the throne!
Photo from J. Godwin
Used by permission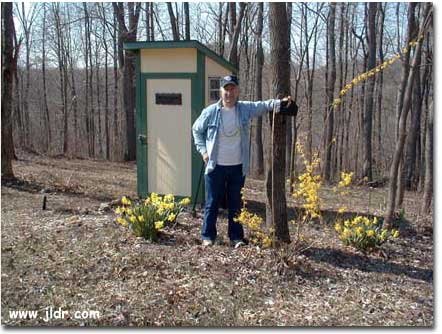 The proud owner of this great looking outhouse
Photo from J. Godwin
Used by permission
Curator's Comment: What follows is a slightly reworded description of the Godwin's Outhouse. Mr. Godwin writes a syndicated article featuring a different word each week and the word on this particular week was none other than the word, Outhouse! He contacted me after writing the column and I asked if it would be ok to include his Outhouse on our tour. He gave me permission so here is what he had to say, in part, about the Outhouse on their mountain property...

---
The Godwins appreciate their fine outhouse on Godwin's Mountain. After their son Larry built the outhouse, they put up a sign that reads "Teenaspot--estab. 1994" (spot or pot, you see) to memorialize it as their daughter-in-law Teena's Mountain priority.
Their outhouse has typical dimensions but is really fancy. It has a parquet wood floor; a commodious Formica seat softened with Japanese-type chenille to sit on; a roller to hold biodegradable toilet paper; a can of lime his wife labeled "Ante up ashes to sweeten the pot"; a light for when the generator is on; two roll-out windows; insulated and paneled walls interior; a locking doorknob; green-and-yellow paint outside; and a shingled roof. But that's not all. Inside decorations include an outhouse picture calendar with captions; outhouse cartoons; a souvenir outhouse; and a framed outhouse picture an anonymous reader of "Words and Things left as a gift at their home doorstep. Thanks!
Sometimes overly genteel Mountain guests look toward their outhouse and say, "Johnnie, you know what you need to make this place complete?" Not wanting to steal their moment or reveal that the owner has often heard what they're going to say, he asks, "What?" They inevitably reply, "Electricity and running water." In other words, all that's lacking is the civilization they came up to the Mountain to get away from. He tactfully replies, "Yep."
Recently, they had the First Baptist Church Hartsville deacons and their wives up to the Mountain for a cookout. The wife of one of the deacons wasn't genteel. In fact, when she visited and came out of their outhouse, she was really excited. So much so she borrowed the owner's reading glasses to re-sit in the outhouse and read all the captions. When she signed their guest book, she listed the outhouse as the highlight of her Mountain visit--topping gorgeous fall colors and a steak dinner. Thanks, Kathy.
Outhouseology is endlessly interesting. In fact, there are privy-diggers who make it their business to dig up old outhouses like archaeologists. After so many years, the waste is just soil anyway. The privy-diggers say the soil is a virtual timeline or chronological record as you dig down, and each layer dug uncovers history. Typical finds are cut-out wooden seat holes that fell through-adult size and child size ones; chamber pots (also called thunder mugs, slopjars, or combinets) emptied and accidentally dropped in; bottles (one valued at $2000); smoking pipes; tools; shaving mugs; money and other stuff. Instead of hiding valuables in a mattress or somewhere, folks often hid stuff in their outhouse, which was a pretty safe place. They would enclose valuables in a jar or container, tie a wire to it, and outhouse it for later recovery.
Folks often wonder why quarter moons were on outhouse doors. Well, to let sunlight in a dark place and help bad air get out and good air to come in. However, most sources say the quarter moon was universally a symbol for woman, and a circular sunburst or star was a symbol for man. Inns and other places had separate outhouses for men and women, and the symbols helped illiterate folks know which outhouse to enter-much like symbols do today. Eventually, the quarter moon appeared on outhouses for both sexes. Why? Who knows!
When they were digging the pit for Godwin's Mountain outhouse, their grandson was about 12; and he wanted to know who would dig it out when it got full. He was told, "Jeremy, that would be your job." Jeremy was quick with his, "Unh-uh!" Mr. Godwin is truly thankful for their outhouse. May you enjoy your indoor plumbing; but should it malfunction, this outhouse owner knows where there's a mighty fine outhouse.
---
---
Have you seen all the Outhouses yet?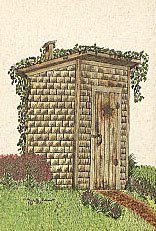 Return to the Outhouse Tour by clicking HERE!
---
Stamp here to "dump" mail to the official Outhouse Curator...

---

Return to my home page...
---
Copyright © 2001
This Home Page was created on November 18, 2001
Most recent revision November 18, 2001