The Old Standby!
---
Lizzie is Keeping Watch...
Photo by J. Loose
The Horses are Keeping Watch too...
Photo by P. Smith
This outhouse is located on a ranch in Mackay, ID. The dog's name is Lizzie and she is very loyal to her owner. She follows him everywhere and even sits in the driver's seat of the trucks in anticipation of going somewhere.
This is a fully functional outhouse and as you can see, it is in the middle of a field. After all, when you go in an outhouse, you are getting back to nature, hence the location. While you are there, you will see roaming horses, ground squirrels scurrying about and even coyotes if you are quiet.
The spray of water shooting past is from the irrigation which runs all the time in the summer. This is necessary because not much rain occurs in Mackay, ID. The horses and other wildlife really appreciate it.
There are mountains in the background which again make for some beautiful views while you are in the outhouse. The fence is particularly interesting as it was probably built from trees located on the ranch and gives the viewer a true sense of being out west.
What else can you see in the photo shown? Many times a photo is worth a thousand words and I've only elaborated with a few so here is your chance to add some "color commentary" to my collection. If your addition is worthy, you will find the quote added on the Comments to the Curator page. You can use Email to respond.
---
Have you seen all the Outhouses yet?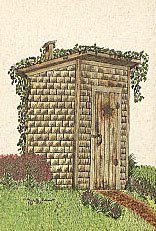 Return to the Outhouse Tour by clicking HERE!
---
Stamp here to "dump" mail to the official Outhouse Curator...

---

---
Copyright © 1996-1997
This Home Page was created on Sunday October 13, 1996
Most recent revision May 9, 1997