---
A Kennebunk, Maine Outhouse on Wheels

A Maine Outhouse on Wheels
Photo by B. Peret
Used by permission
---
Got a letter in the mail the other day and inside was this picture of an Outhouse on wheels taken in Kennebunk, Maine by some friends of ours. We are told it is a long standing part of the advertising for Pillsbury Plumbing on Rt. 1 in Kennebunk, Maine. The shower reminds me of the shower scene in the one episode of The Three Stooges where Curly Howard works on the plumbing in the mansion and it keeps springing leaks. When they are all done, it looks like the plumbing you see above, only worse!
---
---
Have you seen all the Outhouses yet?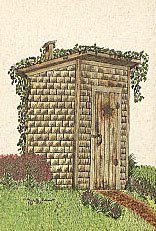 Return to the Outhouse Tour by clicking HERE!
---
Stamp here to "dump" mail to the official Outhouse Curator...

---

Return to my home page...
---
Copyright © 2001
This Home Page was created on November 30, 2001
Most recent revision March 23, 2005