A Maine Shitbox (that's the real name!)
Photo from B. Place
Used by permission
&nbsp &nbsp The Places just purchased some property in Maine across the street from their lake house. It has a building, which they call the "bunkhouse".
&nbsp &nbsp Also on the property is an "out". There is no house around it; no walls; no curtains; just air. They fondly refer to it as the s h i t b o x.
&nbsp &nbsp They will eventually build a real Outhouse in its place. It looks to them like it was made from shipping crates used to ship lobsters. Please note the environmentally friendly color of the toilet seat!
&nbsp &nbsp I hope there are no live lobsters and claws down below!
&nbsp &nbsp
---
&nbsp &nbsp What else can you see in the images shown? Many times a photo is worth a thousand words and I've only elaborated with a few so why don't you add some "color commentary" to my collection. If your addition is worthy, you will find the quote added on the Comments to the Curator page.
---
Have you seen all the Outhouses yet?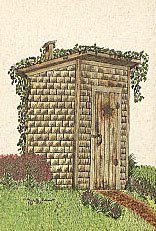 Return to the Outhouse Tour by clicking HERE!
---
Stamp here to "dump" mail to the official Outhouse Curator...

---

Return to my home page
Return to the Top
---
Copyright © 2001
This Home Page was created on February 3, 2001
Most recent revision February 3, 2001