At the Summit of Mt. Evans
---
This Modern Looking Outhouse was at the 14,300 foot Height
Photo by J. Loose
This outhouse is located at the summit parking lot on top of Mt. Evans just outside of Denver, CO. The summit is actually higher than Pikes Peak by a couple of hundred feet and it is the best bargain around because you can drive to the summit for FREE!
This outhouse was really the most modern one we found. It actually had handicap entrances and men's and women's entrances. It was quite nice to find it on top of a peak so high. Again, they tried to blend in the outhouse with the surroundings by using stone from the area to form the walls. It was right near an abandoned structure which had been destroyed by fire I believe from a lightning strike. If you look closely, you can see the lightning rods on top of the roof. While we were there, it rained, sleeted, hailed and snowed! It was really cold too.
The summit of Mt. Evans is really nice in that you can drive there in your car and park in a nice parking lot. To reach the actual summit, you have to take a winding trail and climb another 150 to 300 feet. You must take frequent rests due to the thin air and believe me, everyone you meet is sucking air. Once you reach the summit, the view is spectacular. If you are adventurous, you can climb straight up the side of the mountain because there are large boulders to use. Many rock climbers did just that but not me. I found the walk enough of an adventure.
There are no protecting fences to hold you so you have to be careful at the summit. I squeezed into a rock crevice and had my picture taken. Behind me was a few thousand feet of air. That's right, a drop off to a mountain lake below. You will see another outhouse in another page which was located at the lake below this summit.
What else can you see in the photo shown? Many times a photo is worth a thousand words and I've only elaborated with a few so here is your chance to add some "color commentary" to my collection. If your addition is worthy, you will find the quote added on the Comments to the Curator page. You can use Email to respond.
---
Have you seen all the Outhouses yet?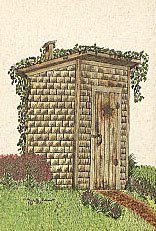 Return to the Outhouse Tour by clicking HERE!
---
Stamp here to "dump" mail to the official Outhouse Curator...

---

---
Copyright © 1996-1997
This Home Page was created on Thursday November 28, 1996
Most recent revision February 12, 1997