Mt. Whitney Outhouse at the Summit
Photo by Bic Ballpoint (Used by permission)
[Curator's Comment: These are the exact words of the contributor describing the history of this Outhouse.] "Not very dramatic, but these (which are no longer there) were once the highest outhouses in the "Lower 48," located very near the summit of Mt. Whitney (elev. 14,491 ft.). I took this photo in October 1964--it's yours for whatever use you might want to make of it.
Oh, to get technical, I'd guess these are sitting at el. 14,480--the summit is off to the right--east-- about 100 feet.
Enjoyed your "Outhouses" site! Thanks."


---
What else can you see in the images shown? Many times a photo is worth a thousand words and I've only elaborated with a few so why don't you add some "color commentary" to my collection. If your addition is worthy, you will find the quote added on the Comments to the Curator page.
---
Have you seen all the Outhouses yet?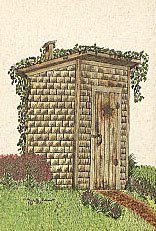 Return to the Outhouse Tour by clicking HERE!
---
Stamp here to "dump" mail to the official Outhouse Curator...


Return to my home page
Return to the Top
RECOMMEND THIS SITE TO A FRIEND!
---
Copyright © 2005


This Page was created on August 30, 2005