A Baby's View of an Outhouse!
---
An Outhouse For Changing Your Baby's Diaper
Photo by J. Loose
Once again, this picture was taken at Oshkosh, Wisconsin at the Experimental Aircraft Association (EAA) annual convention. With hundreds of thousands of people walking around, there are quite a few babies being carried in as many ways as you can imagine.
Where there are babies, there are dirty diapers. It is kind of hard to change a baby's diaper in a Porta John so one company near Oshkosh decided to sponsor a type of baby's outhouse. They build a covered open front building and place free (I said FREE) diapers in it for people's convenience.
I had to laugh when I saw it but then again I thought, Why Not? I took the picture and here it is. Quite a tour isn't it? I hope you are enjoying it. Keep checking in because it will continue to grow.
What else can you see in the photo shown? Many times a photo is worth a thousand words and I've only elaborated with a few so here is your chance to add some "color commentary" to my collection. If your addition is worthy, you will find the quote added on the Comments to the Curator page. You can use Email to respond.
---
Have you seen all the Outhouses yet?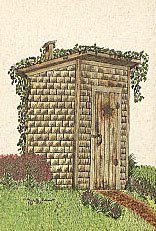 Return to the Outhouse Tour by clicking HERE!
---
Stamp here to "dump" mail to the official Outhouse Curator...

---

---
Copyright © 1997
This Home Page was created on January 30, 1997
Most recent revision February 13, 1997