The $330,000 National Park Outhouse!
---
You and I paid $330,000 for this Outhouse in PA
Photo taken by Chuck Kennedy/Knight-Ridder Tribune
You think this is a lot of money? No way! Check out the $1,000,000 Outhouse which is being built in Glacier National Park after reading about this $330,000 Outhouse.
Late breaking news... 20/20 ran a story on this and to everyone's surprise, the $330,000 outhouse really cost the taxpayers a whopping $784,000. Here's what Barbara Walters had to say about it:
"Well, if you are outraged at the $330,000 throne, hold on to your seats. Since Johnís report, the National Park Service has clarified its expenses. The real cost of the outhouse with construction and landscaping came to $784,000. What a way to go. "
Beautiful isn't it? Well it should be for that kind of money. This newspaper clipping was sent to me by an avid outhouse enthusiast in Texas. Thank you Lynne! As she was scouring the paper one day, this outhouse photo jumped out at her from the pages of the local paper. What follows is the scoop and poop on the outhouse...
It's a two-holer. It has a gabled slate roof with cottage-style porches and a cobblestone masonry foundation. Wild flowers were planted to hide any detail of recent building. Now comes the real, hard to believe, part; The wildflower seeds cost $720 a pound. The custom-mixed paint cost $78 a gallon. The working "holes" are actually $13,000 state-of-the-art composting models which were custom built to last for 50 years. Indiana provided the quarried limestone for the capstones serving as porch railings. Vermont provided the slate for the roof. The foundation was poured 29 inches thick but it won't be used in the winter! There is no running water so bring your handi-wipes. It is located at a trailhead in a remote ravine 300 yards from the Raymondskill Falls. These falls are in the Delaware Water Gap National Recreation Area.
Now here's a challenge to anyone who has read this far. In the Thomas Stone National Historic Site in Port Tobacco, Md, there is a six-holer which cost us taxpayer a whopping $420,000! Where is this majestic crown? It is a tiny park on a Potomac River cove and south of Washington DC. And you know what? This one will look like a corn crib to blend in with nearby subsistence farms! Here's the challenge; To get your name in history and have your picture(s) placed on this web site, be the first to find this one and take a few pictures and send them to me. This I've got to see!
What else can you see in the images shown? Many times a photo is worth a thousand words and I've only elaborated with a few so here is your chance to add some "color commentary" to my collection. If your addition is worthy, you will find the quote added on the Comments to the Curator page. You can use Email to respond.
---
Have you seen all the Outhouses yet?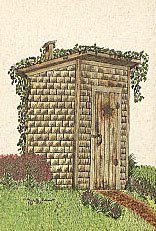 Return to the Outhouse Tour by clicking HERE!
---
Stamp here to "dump" mail to the official Outhouse Curator...

---

---
Copyright © 1997-2000
This Home Page was created on Saturday October 25, 1997
Most recent revision July 28, 2000