A Hunting Camp's Most Important Commodity!
---
A Hunting Outhouse in Virginia's Shenandoah Valley
Image from Andrew McMichael
This is a picture of an outhouse I built on my father-in-law's hunting property. It sits on about twenty acres, in a town called Zep, thirty miles south of Winchester, Virginia, off highway 81.
Since the property is used as a hunting and camping retreat, and is unimproved, people were simply using an old log in the woods to support themselves when the went to the bathroom. So on one of my first trips up there in 1992, I built this beauty. It is a one-holer with a toilet paper rack and lantern rack on the inside. It is also equipped with a magazine rack.
Zep is located at the top of the Shenandoah Valley, and when you make use of the outhouse in the early morning, and leave the door open, you get a lovely view of the fog lifting off the valley. You can see for about 20-30 miles. And the open door blocks the line-of-sight from the trailer/camp area. Its really beautiful. Because of my construction of this outhouse, I've now gotten orders from two other hunters in the area to build outhouses for their properties.
Andrew McMichael [drew@comped1.cas.vanderbilt.edu]
The outhouse was used by permission from Andrew McMichael. The description above is his own. Andrew's home page is located at http://comped1.cas.vanderbilt.edu/~drew.
What else can you see in the photo shown? Many times a photo is worth a thousand words and I've only elaborated with a few so here is your chance to add some "color commentary" to my collection. If your addition is worthy, you will find the quote added on the Comments to the Curator page. You can use Email to respond.
---
Have you seen all the Outhouses yet?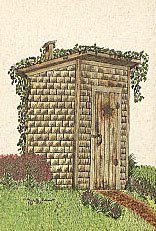 Return to the Outhouse Tour by clicking HERE!
---
Stamp here to "dump" mail to the official Outhouse Curator...

---

---
Copyright © 1997-2003
This Home Page was created on Friday March 21, 1997
Most recent revision February 17, 2003