New Jersey Historic Outhouse Available!
---
There is a historic outhouse available for the asking in New Jersey. Here are the details...
Someone's Aunt has just sold her old farm in NJ to a developer. They will be tearing down the 1850s era house, barn and outhouse in 4-5 months (Feb - March 1998). I got to thinking that someone may want to have the outhouse; it seems a shame to lose it in such an ignoble way. It is in very good condition, having been rebuilt 20 yrs or so ago. If you are interested, you might be able to get it for the cost of towing it home. The person to contact is Bob Shafto of Falmouth, ME. Additional details are below.
It's nothing unusual, perhaps 4 ft wide and 3.5 ft deep and 7 ft high in front, 6 in the rear. It has a pit door in back for cleaning. Color red, a small window on one side, no cutout design in the door. Very sound and sturdy. Bob would bring it back to his farm in Maine if he had some way of transporting it. For more information, send Email to Bob by clicking here.
---
Have you seen all the Outhouses yet?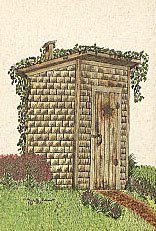 Return to the Outhouse Tour by clicking HERE!
---
Stamp here to "dump" mail to the official Outhouse Curator...

---

---
Copyright © 1997
This Home Page was created on Friday November 7, 1997
Most recent revision November 7, 1997