Deposit Your Money in the Outhouse Bank!
---
Put your money in here
Photo by J. Loose
Try Me!
Photo by J. Loose
Top Left View
Photo by J. Loose
Top Right View
Photo by J. Loose
Front View of the Outhouse Bank
Photo by J. Loose
&nbsp&nbspThis time I have incentive to save money. This was a birthday gift from my sister. She has found a very unique place which sells all kinds of Outhouse things.
&nbsp&nbspWhen you put a coin through the roof, you have to press down on the chimney. When you do, you hear a funny remark from the person inside "Did someone die in here?" Look closely at the front. you will see a gray plank which is how you get inside. When you press down on it, you hear another sound!

&nbsp&nbspWhere can I get one? That's a million dollar question. I don't know if they are still available but this one came from a company called Funrise located in California. Here is the information you will need:
&nbsp&nbsp&nbsp&nbspFunrise Inc
&nbsp&nbsp&nbsp&nbsp6115 Variel Ave.
&nbsp&nbsp&nbsp&nbspWoodland Hills, CA 91367-3727
&nbsp&nbsp&nbsp&nbspPhone: (818)883-2400
&nbsp&nbsp&nbsp&nbspItem # 72773
&nbsp&nbsp&nbsp&nbspMade in China

&nbsp&nbspThey have a really nice web site located at www.funrise.com.
As of 14 December 2000, I found out that the item has been discontinued for some time from Funrise, but is available at QVC. type in the item number L58784. You will be able to order directly from the site. I hope this info helps! I tried to use their web site but couldn't get it working on either browser but you can order from this number: Order by phone: 1-888-345-5788. Tell them you saw their number on my web site. Ask about item number L58784
What else can you see in the images shown? Many times a photo is worth a thousand words and I've only elaborated with a few so here is your chance to add some "color commentary" to my collection. If your addition is worthy, you will find the quote added on the Comments to the Curator page. You can use Email to respond.
---
Have you seen all the Outhouses yet?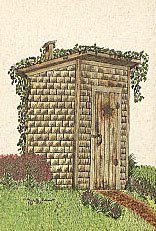 Return to the Outhouse Tour by clicking HERE!
---
Stamp here to "dump" mail to the official Outhouse Curator...

---

---
Copyright © 1997-2000
This Home Page was created on Friday June 27, 1997
Most recent revision December 14, 2000