A Weathered Outhouse in Michigan circa 1890
Photo by Sammy
&nbsp &nbsp This is a picture of a outhouse in Richmond, Michigan in the USA. It has beveled glass windows and is a two seater. Unfortunately, it is surrounded by poison ivy. The estimate is that it was probably built in the late 1800's. Can't you just picture yourself working out in the fields and then after a long day, wearily make your way to the outhouse you see pictured here? I'm sure there are penciled remarks on the walls of this one regarding the rainfall and storms.
---
&nbsp &nbsp What else can you see in the images shown? Many times a photo is worth a thousand words and I've only elaborated with a few so why don't you add some "color commentary" to my collection. If your addition is worthy, you will find the quote added on the Comments to the Curator page.
---
Have you seen all the Outhouses yet?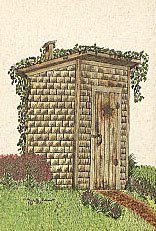 Return to the Outhouse Tour by clicking HERE!
---
Stamp here to "dump" mail to the official Outhouse Curator...

---

Return to my home page
Return to the Top
---
Copyright © 1998-2001
This Home Page was created on Saturday October 24, 1998
Most recent revision February 9, 2001