An Outhouse On Fire!
---
The Outhouse is on Fire
Contributed by P. Keays
The Gingerbread Outhouse Before the Burning
Contributed by P. Keays
The Gingerbread Outhouse During the Burning
Contributed by P. Keays
Shown above are some interesting pics from the contributor; This person recently hosted a party built on the theme of burning down the old outhouse. The shots above are of the ol' girl in flames, as well as some shots of a cute gingerbread potty some guests made to honour the occasion.
In the words of the contributor: As for the reasoning; Truth is, the old outhouse had fallen into quite a state of disrepair and had acquired an attitude of about 35 degrees. While I was growing up, it had be put to a variety of good uses after my father had indoor plumbing installed. It has been a storage location for maple syruping equipment, a duck shed (with an attached pen), a garden shed, and an archery target to name a few. During our memorable ice storm of Jan. 1998 in eastern Ontario, I was even forced to press it back into its original service for 8 days. Even the burning was not without purpose. Over the past few years, my friends and I have joked about having a party and burning down the old outhouse. Finally I decided to go for it. It was a great turn out and fun was had by all. Shortly after it collapsed, I was fortunate to capture on video one girl (who had been on fire-control duty with the garden hose) saying a quiet and seemingly heartfelt "goodbye, pooper".
What else can you see in the images shown? Many times a photo is worth a thousand words and I've only elaborated with a few so here is your chance to add some "color commentary" to my collection. If your addition is worthy, you will find the quote added on the Comments to the Curator page. You can use Email to respond.
---
Have you seen all the Outhouses yet?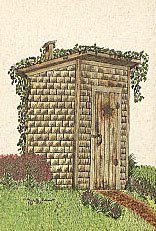 Return to the Outhouse Tour by clicking HERE!
---
Stamp here to "dump" mail to the official Outhouse Curator...

---

---
Copyright © 1999
This Home Page was created on February 21, 1999
Most recent revision February 21, 1999