Black Duck, Minnesota Camp Outhouses
---
Popular Tree Framed Leaning Outhouse
Photo by M. Stein
A Chevy Blazer Outhouse
Photo by M. Stein
These are some photo's that one of my web site visitor's sent me. The left outhouse was built about 15 years ago. He and a couple of his hunting partners threw this thing together. They accidentally left the 2x4's and the skill saw at home so they used small poplar trees for the frame. They used a chain saw to cut everything.
Both outhouses are usable, but the old one has a little odor to it and leans to the back for it has fallen into the hole a little. The moss on the frame gives it character.
In the right photo, the new outhouse was not yet complete. The top is from a Chevy Blazer. They figured it would let in a great deal of light and would never have to be re-roofed.
They are located about 16 mi NE of Black Duck, Minnesota
What else can you see in the images shown? Many times a photo is worth a thousand words and I've only elaborated with a few so here is your chance to add some "color commentary" to my collection. If your addition is worthy, you will find the quote added on the Comments to the Curator page. You can use Email to respond.
---
Have you seen all the Outhouses yet?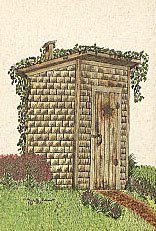 Return to the Outhouse Tour by clicking HERE!
---
Stamp here to "dump" mail to the official Outhouse Curator...

---

---
Copyright © 1999
This Home Page was created on January 26, 1999
Most recent revision January 26, 1999