Before viewing the 2004 pictures, we went to the 2005 Outhouse Classic on February 26, 2005 and this year we created a complete 1-Hour Video of the races available on DVD. We felt like a Hollywood film editor with all the film clips on the floor but we ended up with a real funny documentary with lots of interviews and action. It is available for purchase in our on line store. We are donating a portion of every sale to an organization in the Trenary, Michigan area to help needy families.


All of our Outhouse Racing DVD Videos are available for sale in our on line store. To go directly to the Outhouse Racing Video department in our store, Click on the link below:
---
---
There are a lot more pictures available to view than what are shown below. We have pictures of every Outhouse that was raced and all the racers. In addition, we have a lot more interesting people shots that you will enjoy looking at.
To help defray some of the costs of running this web site and covering the Outhouse Races, we set up a private area you can subscribe to. For a very small amount, you can access the private area for an entire year with ALL the pictures from this year's race. We will also make available the Outhouses of America electronic newsletter (The U. P. Daily News published a minimum of once per year) that covers the latest news about Outhouses as well as the following:
The Outhouse Classic is located in Trenary, Michigan, which is about 19 miles north of Rapid River, and is held on the last Saturday of February at 2 PM. Dig out your Michigan map and unfold the Upper Peninsula of Michigan and look smack dab in the middle of it and you will be close. This year when we crossed the Mackinac Bridge, the fog was unusual as shown in these pictures:


This year was the 11th year and it was the best Outhouse Classic ever. [Climbing up on my soap box:] One word of caution is in order: If you plan to drink at the races, have a designated driver who isn't drinking. This year the Michigan State Police were patrolling the area the entire weekend and many people were pulled over. Please don't drink and drive. [Now I can get off my soap box...]
This year the stars and moon must have been aligned just right because the weather was PERFECT! My own feeling is that Toivo Aho, who passed away shortly after last year's race, had something to do with that. After last year's 25 below wind chill during the race, this was great. The race this year was dedicated to Toivo. He was the person responsible for bringing Outhouse racing to Trenary and his picture graced the cover of the Wall Street Journal last year on March 4th when they did a front page article about the Outhouse races.
I have been covering the race now for the last six years and my partner and I take pictures and video of the event. This race has grown from just a few people to well over 4500 people this year. Every year on Friday night a track of snow is layed down on the main street of Trenary for a distance of 500 feet. Then on Saturday the people begin to arrive in droves to watch the races. Pickup trucks and vehicles pulling trailers slowly arrive and unload their creations for this year's race. If you get there just after noon, you will have plenty of time to mill around and inspect the many different designs of Outhouses. You will also see people putting them together as though they were a kit. There is non-stop action from the moment you get there as people walk around talking with each other. After you see some of these racers, you begin to see some real nice entries and you can see that many people put a lot of time and work into their Outhouse. On the other hand, there are always a few who put a refrigerator box on a pair of skis and go for it! There are now a few people I look forward to seeing and they never let me down!
OK, let's get down to what happened. This year three of us drove up from Detroit on Friday and for supper, we drove up to Chatham, Michigan for some of the best Walleye and Perch we have had in a long time at the Village Pub. It was recommended to us and we were very happy with the meal. Afterwards, we headed down to Trenary for some bar time visiting with Cindy, owner of the Trenary Tavern, and her husband. Some of the racers were also in town at the bar so we got to know them and got a few hints about what they would be racing. Francois and Sherry, members of the Outhouse Classic committee, were there along with a lot of other people.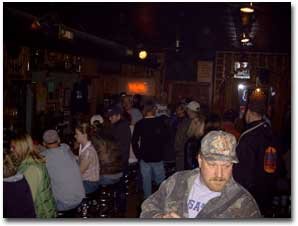 Saturday morning begins with a breakfast at Deloma's restaurant. They have pretty good specials for breakfast. This year I got the fisherman's breakfast. It was awesome! How about eggs, hash browns, pancakes, and a huge piece of pan-fried perch laying right there on the plate. Fresh coffee warmed us up and then we were off to Trenary.


There isn't much more to say except for you to take a look at the pictures. By the way, the photos were taken by myself, the Curator of the Outhouses of America Tour, and Mike Becker, my partner in photography. Any photos taken by others are noted.