An Exploding Outhouse
---
| | |
| --- | --- |
| | |
| Insert a Quarter Please... | Ok, I hope it's worth 25 Cents! |
| | |
| Yikes! It's Exploding!!! | Time to pick up the pieces! |
All Photo's by J. Loose

This outhouse was offered to me at one time or another during one of our family visits. I thought that I accepted it, but for some reason, I thought that it had ended up lost. When I began this tour, I started to look for it but could not find it any where. When it appeared to be lost, I figured my Mom still had it so I sent Email asking if she knew where it was. Much to my surprise, I received a reply from my sister saying she had it tucked away for a rainy day and the rest is history. She sent it to me via snail mail and I took some digital photo's with an AGFA ePhoto307 digital camera. I had to take quite a few to get the explosion at just the right time. I then used AGFA's PhotoWise software to import the pictures, crop them and saved them as JPG files.
This outhouse was found by my Mom in Minnesota. She probably found it in a craft store or through a friend. Can you figure out how it works? It really is quite clever the way it is made. The person designed it using a mouse trap. The sides have ridges which get caught by the springing trap when the quarter hits the cheese. There is a slot on top which says "Insert Quarter". To be honest, I have gotten my fingers snapped a few times when setting the trap!
What else can you see in the photo shown? Many times a photo is worth a thousand words and I've only elaborated with a few so here is your chance to add some "color commentary" to my collection. If your addition is worthy, you will find the quote added on the Comments to the Curator page. You can use Email to respond.
---
Have you seen all the Outhouses yet?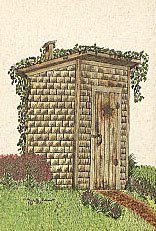 Return to the Outhouse Tour by clicking HERE!
---
Stamp here to "dump" mail to the official Outhouse Curator...

---

---
Copyright © 1997
This Home Page was created on Tuesday February 11, 1997
Most recent revision February 11, 1997