Homestead Outhouse in Fishville, Michigan
---
Genuine Wooden Outhouse on a Homestead in Fishville, Michigan
Photo Donated by M. La Rock
This original black and white picture was sent to me by an avid Outhouse enthusiast. I was impressed by the fact that someone took this picture of a lady with the outhouse over her left shoulder. The picture is quite old as evidenced by the type of picture it is. If you look closely, you can see what appears to be a small barn with a fence surrounding it. The outhouse is rather small and the door appears to be facing the photographer.
Here are the words of the donator:
Whole new meaning to "House on the hill". I never had the "honor" of using the facility but understand it could have withstood "Martha Stewart's" white glove. [The outhouse picture] was taken at my dad's old "homestead" in a little burg called Fishville here in Michigan. Don't know who the lady is in the pic'. Sometimes I think it might be me on days when I feel REALLY old.
What else can you see in the images shown? Many times a photo is worth a thousand words and I've only elaborated with a few so here is your chance to add some "color commentary" to my collection. If your addition is worthy, you will find the quote added on the Comments to the Curator page. You can use Email to respond.
---
Have you seen all the Outhouses yet?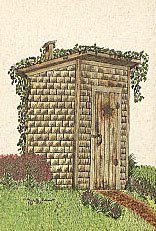 Return to the Outhouse Tour by clicking HERE!
---
Stamp here to "dump" mail to the official Outhouse Curator...

---

---
Copyright © 1997
This Home Page was created on Sunday July 13, 1997
Most recent revision July 13, 1997