Ozone, Tennessee Outhouse -
A Beautiful Work of Art!
---
Ozone, Tennessee Outhouse - A Beautiful Work of Art
Photo Donated by KG - Used with Permission
Once again, a contributor has come through with a great outhouse which was painted with a professional painting on the outside. The words of the contributor follows.
This is a photo of my old outhouse taken a bunch of years ago. It was in use until a tree fell on it. My daughter, then a young teen, painted the flowers on it. It was located in Ozone, Tennessee. As to history, I'm not really positive. I know it was there in 1956 or so when my grandmother bought the land. The house associated with it was built in the late 1930's and I suppose that this outhouse dates from then. It was, of course, unpainted grey-weathered wood until painted after I moved there in 1977. (No one's investigated the outhouse pit, but we did find a cache of old mason jars not far from it in a furrow cut by a lightning strike.) The land had previously been the site of a vacation "hotel" of some sort. No description of this structure exists to my knowledge.
What else can you see in the images shown? Many times a photo is worth a thousand words and I've only elaborated with a few so here is your chance to add some "color commentary" to my collection. If your addition is worthy, you will find the quote added on the Comments to the Curator page. You can use Email to respond.
---
Have you seen all the Outhouses yet?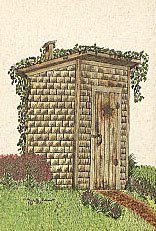 Return to the Outhouse Tour by clicking HERE!
---
Stamp here to "dump" mail to the official Outhouse Curator...

---

---
Copyright © 1999
This Home Page was created on February 21, 1999
Most recent revision February 21, 1999