A Glacier Park Outhouse With a Spectacular View
The View is Spectacular but Watch Your Step!!!
Photo from B. Rossman (Used by permission)
This is a picture of an outhouse that will knock your socks off. It has a million dollar view, it's bear proof, lighting proof, able to withstand gale force winds and to top it off, it is handicap accessible.
The picture was taken by the contributor on a trip in Glacier National Park in Montana.
It sits on top of Swiftcurrent Lookout, above Granite Park Chalet in Glacier National Park Montana, at an elevation of 8300 ft. To get to the door you have to climb down a rock ledge. Since this hike is 8 miles one way and 3500' up, I think wheelchairs are out.
---
---
Have you seen all the Outhouses yet?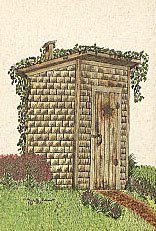 Return to the Outhouse Tour by clicking HERE!
---
Stamp here to "dump" mail to the official Outhouse Curator...


---

Return to my home page...
---
Copyright © 2000
This Home Page was created on February 6, 2000
Most recent revision February 6, 2000