Gotta Go! Toilet Rentals in Canada
Fall View of a set of Gotta Go! Toilets
Photo by I. Lloyd (Used by permission)
For obvious reasons, I really enjoyed finding your site. I was searching for outhouse plans for an economical but environmentally friendly wooden outhouse.Some of my customers are unwilling or unable to afford a very portable toilet and have a use for a less portable but self contained (pumpable) unit. I am considering building and supplying such a unit.
I have submitted a photo of two of my units at a nearby roadside park last fall. Although these are mass produced I thought you might appreciate the colorful setting.
---
---
Have you seen all the Outhouses yet?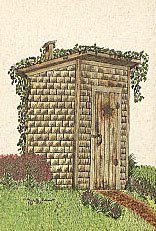 Return to the Outhouse Tour by clicking HERE!
---
Stamp here to "dump" mail to the official Outhouse Curator...


---

Return to my home page...
---
Copyright © 2000
This Home Page was created on February 3, 2000
Most recent revision February 3, 2000