Hillside Outhouse in the Adirondacks
---
Southern Adirondack Mountain Outhouse
Photo by F. Ralbovsky
Close-up View of the Outhouse
Photo by F. Ralbovsky
Our outhouse is a classic example of balancing the call of nature with the constraints of nature. Located on a steep hillside in the southern Adirondack Mountains, in the town of Hope, New York, our stately one-seater has maintained it's precarious mountainside perch for an estimated 25 years, while providing both a functional comfort station and a fabulous view of the Sacandaga River at the foot of the mountain. While rarely used anymore for its original purpose, it remains in outstanding shape, complete with shingled roof, plastic seat, and screened ventilation. It continues to be one of our family's prized possessions and conversation pieces.
What else can you see in the images shown? Many times a photo is worth a thousand words and I've only elaborated with a few so here is your chance to add some "color commentary" to my collection. If your addition is worthy, you will find the quote added on the Comments to the Curator page. You can use Email to respond.
---
Have you seen all the Outhouses yet?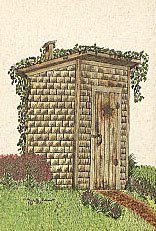 Return to the Outhouse Tour by clicking HERE!
---
Stamp here to "dump" mail to the official Outhouse Curator...

---

---
Copyright © 1997
This Home Page was created on Sunday July 13, 1997
Most recent revision July 13, 1997