Here it is, the Ofishal "Jaeger Acres" Outhouse !
---
Modern Outhouse with Split "Dutch" Doors
Image from P. Jaeger
This is the View from the Outhouse!
Image from P. Jaeger
This is one of the more important things you'll find in the "Jaeger Acres" wilderness. A throwback to earlier years, but a necessary convenience even in these here modern times.
This privy boasts a full and two half moons, split "dutch" doors, a window and mini blinds.
The breathtaking view helps to offset the reasons why an outhouse takes your breath away. The outhouse is located on the banks of Cottonwood Creek, near Redding, California. When the top half of the dutch door is opened, the view is splendid. You can see a wooded valley with a brook running through it. One can just imagine watching deer getting a drink while you are sitting in the outhouse enjoying the view.
The outhouse was used by permission from Paul Jaeger. His home page is located at http://members.aol.com/quasarz/acres/jaeger.htm. It is a pretty interesting site!
What else can you see in the photo shown? Many times a photo is worth a thousand words and I've only elaborated with a few so here is your chance to add some "color commentary" to my collection. If your addition is worthy, you will find the quote added on the Comments to the Curator page. You can use Email to respond.
---
Have you seen all the Outhouses yet?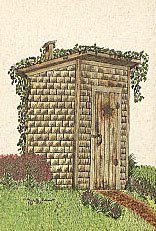 Return to the Outhouse Tour by clicking HERE!
---
Stamp here to "dump" mail to the official Outhouse Curator...

---

---
Copyright © 1997
This Home Page was created on Thursday March 13, 1997
Most recent revision March 18, 1997