A Motorcycle Mobile Outhouse - Could It Be?
---
The Motorcycle Powered Outhouse
Contributed by W. Myers
Outhouses Love Parades
Contributed by W. Myers
Here is a genuine mobile outhouse complete with automatic transmission, air horns, steam whistle, siren, oooga horn, built-in video camera, etc, etc, etc. The only one like it in the world as you can see. It is 12 feet high with 2 1/2 in clearance underneath.
What else can you see in the images shown? Many times a photo is worth a thousand words and I've only elaborated with a few so here is your chance to add some "color commentary" to my collection. If your addition is worthy, you will find the quote added on the Comments to the Curator page. You can use Email to respond.
---
Have you seen all the Outhouses yet?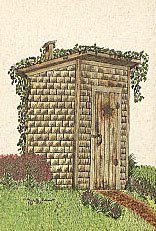 Return to the Outhouse Tour by clicking HERE!
---
Stamp here to "dump" mail to the official Outhouse Curator...

---

---
Copyright © 1999
This Home Page was created on February 21, 1999
Most recent revision February 21, 1999