A Moved and Restored 3-holer Outhouse in Michigan
---
The Restored 3-holer Outhouse
Photo as it appeared in "Country Life"
View Prior to Moving the Old Outhouse
Photo as it appeared in "Country Life"
Everyone is always on the lookout for an interesting article on Outhouses for me. This one was found in the Farmers' Advance Country Life newspaper. If you have a chance to pick up a copy of the newspaper or subscribe to it, please do so. It is a nice newspaper. The title of the article was "From primitive 3-holer to painted lady".
Taking a quick look at the photo, this Outhouse has a classic V-style roof and a square window on the side you can see. This person goes on to describe in the article how she sees many old dilapidated outhouses as she drives and always wants to ask the owners if she can have it. Seems there was an old outhouse located on her property and it was located next to that old house, shown in the right photo, which had been turned into a barn. Her husband put the outhouse on skids and moved it to the present location which is in front of her garden out of the shade facing the road.
To restore it to the condition you see now, her husband had to replace many of the boards in the foundation, roof and some of the front boards. The 3-holer bench was made out of tulipwood which is a very soft wood that is easily shaped. There are Ma and Pa holes and a smaller child hole. The Ma and Pa holes still had their circle covers. They did a bit of fixing up, such as adding the 1 x 4s to the corners, and then added the flower box. The colors used included Buttermilk, Windsor Chair Green, Confederate Red, Cranberry, and Old Forge Mustard. If you do a project such as this, be sure to allow a couple of days between coats to allow the paint to cure. You should also give the bare wood a couple of good coats of primer prior to the final paint applications.
So what is the final use for this great looking 3-holer?
A Tool Shed!
What else can you see in the images shown? Many times a photo is worth a thousand words and I've only elaborated with a few so here is your chance to add some "color commentary" to my collection. If your addition is worthy, you will find the quote added on the Comments to the Curator page. You can use Email to respond.
---
Have you seen all the Outhouses yet?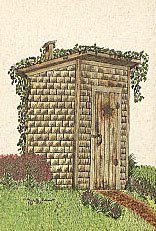 Return to the Outhouse Tour by clicking HERE!
---
Stamp here to "dump" mail to the official Outhouse Curator...

---

---
Copyright © 1998
This Home Page was created on January 11, 1998
Most recent revision January 11, 1998