Portable "Nail" Keg Outhouse
Portable "Nail keg" Outhouse
Photo from O. Chaplin (Used by permission)
My website fascinated this contributor. He has passed my web site address on to a number of people. Attached is a photo of a "modern" outhouse. It has a long history of evolvement, going back over 50 years. It originated with a "nail" keg. It is portable, breaks down to a compact 2' X 4' X 7" (not counting the 7 foot poles) and can be erected/taken down in minutes We use it (or previous versions) each November during a week of camping out. Notice the lantern hanging. I guess it doesn't get hot enough to melt the tarp but it sure provides other people a lot of light to see something they probably don't want to see!
---
---
Have you seen all the Outhouses yet?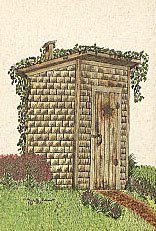 Return to the Outhouse Tour by clicking HERE!
---
Stamp here to "dump" mail to the official Outhouse Curator...


---

Return to my home page...
---
Copyright © 2000
This Home Page was created on August 6, 2000
Most recent revision August 6, 2000