New Hampshire Outhouse
(and surrounding property and home)
For Sale
---
Outhouse 4-Sale
Photo by J. Loose
On a drive through Northern New Hampshire, we noticed a home for sale. We went from 60 to 0 in a matter of seconds! Another outhouse had been found. We turned around and drove back to the home and went to investigate. Sure enough, on the back of the property was a nicely maintained outhouse. It was next to a small shed and both had the trim around the door painted white. I'm sure you'll agree, it was a nice find on a Sunday drive.
What else can you see in the images shown? Many times a photo is worth a thousand words and I've only elaborated with a few so here is your chance to add some "color commentary" to my collection. If your addition is worthy, you will find the quote added on the Comments to the Curator page. You can use Email to respond.
---
Have you seen all the Outhouses yet?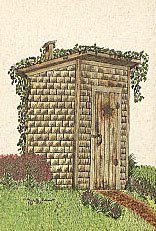 Return to the Outhouse Tour by clicking HERE!
---
Stamp here to "dump" mail to the official Outhouse Curator...

---

---
Copyright © 1997
This Home Page was created on Saturday May 10, 1997
Most recent revision May 10, 1997