A Canadian Poop Deck!
---
Closeup of the Poop Deck
Photo by J. Loose
A View of the Poop Deck
Photo by J. Loose
The Poop Deck is on Stilts
Photo by J. Loose
One day last Fall, some friends of ours said "Hey, come on down to the boat and we'll go for a cruise over to Canada. We've got something to show you that you might be interested in."
We drove to the Marina and piled onto the boat and after fueling up, took off on our adventure. We soon passed by Windsor, Ontario and were headed Southeast on Lake St. Clair.
After a bit of time, we came to a channel and began to cruise down it. In the distance, we could see something at the end of a person's dock. As we got closer, we saw THE POOP DECK! Although the pictures don't do it justice, there is a gondola on top of an elevated platform and next to the gondola is...THE TOILET!
The toilet is in plain view on the left side and is available for use if you dare!
What else can you see in the images shown? Many times a photo is worth a thousand words and I've only elaborated with a few so here is your chance to add some "color commentary" to my collection. If your addition is worthy, you will find the quote added on the Comments to the Curator page. You can use Email to respond.
---
Have you seen all the Outhouses yet?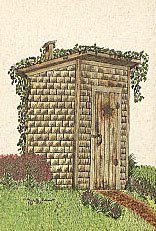 Return to the Outhouse Tour by clicking HERE!
---
Stamp here to "dump" mail to the official Outhouse Curator...

---

---
Copyright © 1999
This Home Page was created on January 27, 1999
Most recent revision January 27, 1999