Michigan Outhouse featuring a Rooster on the Door
---
Michigan Outhouse featuring a Rooster on the Door
Photo by S. DeVary
Side View of the Rooster-Doored Outhouse
Photo by S. DeVary
This outhouse was found by my Mom's hairdresser. It was taken in Millington, Michigan on Balcer's farm 4 miles out on Millington Road. She was there when they moved in way back in the Summer of '42. Gee, they made a movie about that didn't they?
The back of this outhouse faces the road. Convenient thinking because you can now leave the door open and no one will see you from the road. Pretty neat thing about this one is the Rooster on the door. I don't know if it was painted on there or what. It looks pretty good though. The roof on this one is in pretty good shape but as you can see from the side view; someone must have blasted pretty good because the whole back end is lifted up! I would assume this one is still functional because it was located very near a wood pile which you can see off the right side of the 1st picture.
What else can you see in the images shown? Many times a photo is worth a thousand words and I've only elaborated with a few so here is your chance to add some "color commentary" to my collection. If your addition is worthy, you will find the quote added on the Comments to the Curator page. You can use Email to respond.
---
Have you seen all the Outhouses yet?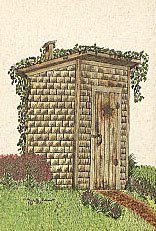 Return to the Outhouse Tour by clicking HERE!
---
Stamp here to "dump" mail to the official Outhouse Curator...

---

---
Copyright © 1997
This Home Page was created on Tuesday June 10, 1997
Most recent revision April 13, 2003