A Great Looking Arkansas Outhouse Built in 1947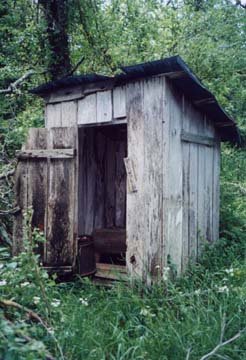 An Outhouse built just after World War II in 1947
Photo from J. Searing (Used by permission)
This Outhouse is a double seater with a tin roof that was built in 1947. Please note that there aren't any windows. I image the construction allowed enough ventilation. This photo was taken in April of 1999. The contributor's husband wanted to test it out but decided against it. It was the familie's only facilities. Her mother remembers using it as a child. She can also still picture her father building it...to replace the old one. It is located in Rosie, Arkansas on Hwy 14 right at the bend in the road. This is enough description to find it if you are going through Rosie. The old farm house is gone now but the barn is still intact.
---
---
Have you seen all the Outhouses yet?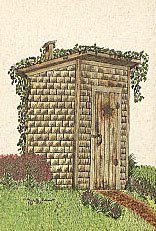 Return to the Outhouse Tour by clicking HERE!
---
Stamp here to "dump" mail to the official Outhouse Curator...


---

Return to my home page...
---
Copyright © 2000
This Home Page was created on February 6, 2000
Most recent revision February 6, 2000