A Snow Covered Outhouse in Minnesota
---
Can You Find the Outhouse in the Snow?
Photo by D. Grube
What the Outhouse Actually Looks Like
Photo by D. Grube
This outhouse is located in Southwestern Minnesota. The picture in the snow was taken in February 1997. The other picture is what it really looks like in the summer. It is owned by J. Mexner and was built by H. Grube. As you can see, Minnesota gets some tremendous snowstorms and the drifts were so high, the outhouse was nearly covered. It is still used in the summer. The people live in Worthington, MN and stay in the small farm house once in a while during the summer. It is used often during the farming season.
What else can you see in the images shown? Many times a photo is worth a thousand words and I've only elaborated with a few so here is your chance to add some "color commentary" to my collection. If your addition is worthy, you will find the quote added on the Comments to the Curator page. You can use Email to respond.
---
Have you seen all the Outhouses yet?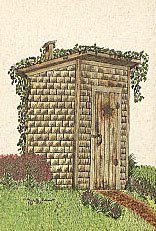 Return to the Outhouse Tour by clicking HERE!
---
Stamp here to "dump" mail to the official Outhouse Curator...

---

---
Copyright © 1997
This Home Page was created on Saturday September 6, 1997
Most recent revision September 6, 1997