The Havens Homestead Museum Outhouse
in
Ocean County New Jersey
---
Front View of the Haven's Homestead Outhouse
Image from G. Reissner
The Door's Open!
Image from G. Reissner
Inside view of the Haven's Homestead Outhouse
Image from G. Reissner
When was the last outhouse built in Ocean County New Jersey?
A group of Boy Scouts were looking for a summer project. They found just the thing at the Havens Homestead Museum. The Havens house (circa 1830) was being restored and needed an outhouse. (The original outhouse according to legend , was of great interest to a young boy and his twin brother. They had learned about the effect matches had on methane and were experimenting with the outhouse one day! Mr. Havens was not at all pleased with the result of their experiment.) The Boy Scouts did the research, submitted plans to the Brick Township Historical Society and got approval for the rebuilding of the Havens Homestead Outhouse. They acquired the materials from local lumber supply companies and completed the last outhouse in Ocean County New Jersey in July 1997.
What else can you see in the images shown? Many times a photo is worth a thousand words and I've only elaborated with a few so here is your chance to add some "color commentary" to my collection. If your addition is worthy, you will find the quote added on the Comments to the Curator page. You can use Email to respond.
---
Have you seen all the Outhouses yet?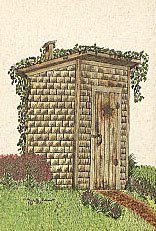 Return to the Outhouse Tour by clicking HERE!
---
Stamp here to "dump" mail to the official Outhouse Curator...

---

---
Copyright © 1997
This Home Page was created on Friday September 12, 1997
Most recent revision December 20, 1997