Garden Outhouse in Southwestern Ohio
Great looking Outhouse with Ivy Vine
Photo from H. Stewart (Used by permission)
It was made with an Agfa CL30Clik! digital camera. Compression was set at 67%.
This is a photo of the outhouse in the contributor's backyard garden. It makes a great trellis for the hops vine and grapes. The outhouse origionally belonged to a neighbor. It was located at the far end of his corn field. The Stewarts were not too keen on putting it in their yard, (He grew up with outhouses and didn't really have any fond memories of them) but his wife insisted and they have to admit it really looks kind of neat. It makes a pretty good tool shed to boot.
The Outhouse is located in Wheelersburg, Ohio. Wheelersburg is located near the southwestern tip of Ohio on the Ohio river. Find South Point and follow the river north. If Wheelersburg is not on the map it is located just south of Portsmouth.
The farmer they obtained the Outhouse from originally got it from a barbershop in Wheelersburg. They are not sure when but it must have been in the late fifties or early sixties. The barbershop is no longer there but the outhouse lives on.
---
---
Have you seen all the Outhouses yet?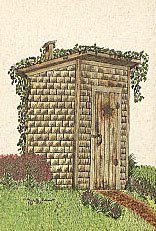 Return to the Outhouse Tour by clicking HERE!
---
Stamp here to "dump" mail to the official Outhouse Curator...


---

Return to my home page...
---
Copyright © 2000
This Home Page was created on June 18, 2000
Most recent revision June 18, 2000