A Swedish Outhouse - a.k.a. Lynne's Hideaway
---
An Outhouse in the Swedish Forest
Photo by V. Cimino
This outhouse is located near Herten Lake in central Sweden. It is part of a summer retreat owned by our former exchange student's in-laws. The complex consists of a main house with kitchen, dining and sitting areas, plus six individual sleeping cabins. It was my wife's first contact with an outhouse and is still memorable to us from our trip to Sweden in August 1990.
It's fairly surrounded by trees, so I'm not sure if it was a summer place or Swedes just have lots of trees in the neighborhoods they live in. The outhouse has a big heart on the door! Pretty interesting I must say.
What else can you see in the images shown? Many times a photo is worth a thousand words and I've only elaborated with a few so here is your chance to add some "color commentary" to my collection. If your addition is worthy, you will find the quote added on the Comments to the Curator page. You can use Email to respond.
---
Have you seen all the Outhouses yet?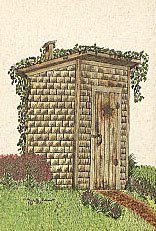 Return to the Outhouse Tour by clicking HERE!
---
Stamp here to "dump" mail to the official Outhouse Curator...

---

---
Copyright © 1998
This Home Page was created on Saturday October 24, 1998
Most recent revision October 24, 1998