Ouachita National Forest Outhouses near Mena, Arkansas
---

New Outhouse with Old Outhouse in the Background
Photo from A. Tanner
Used by permission

Newly designed Outhouse now in use in the National Forest
Photo from A. Tanner
Used by permission

The top photograph depicts the old and the new in outhouses on public lands. These are located on the Mena Ranger District, Ouachita National Forest, US Forest Service and is near Mena, Arkansas. The area is now a Developed Picnic Site on the Talimena Scenic Drive.
The old outhouse was used by the lookout of a National Forest Fire Tower on Rich Mountain. Often, a family lived at fire towers rather than hike or ride horses to the site in the old days. There needed to be a way to remove the deposits, rather than to dig a new site when the old one was full.
This toilet has a rock chimney originating in its concrete or rock vault. The concrete floor extended outside the building and had a trap door which facilitated access. The door allowed a little fuel oil or kerosene to be added and the pit would be set on fire or burned out periodically. The unique toilet was worthy of preservation. Planners left the old building when a new toilet was constructed in the 70's or 80's for public recreation use.
The newer toilet was constructed using a black metal convection stack originating in the concrete vault. The door, also metal and painted black, faced to the south. The door, exposed to the sun, had a square air vent installed at the bottom which allowed air to enter. The heat on the door and on the stack created an airflow in through the vent, down the two toilet seats and through the vault to and through the stack.
The design of these type toilets, called "SST's" for sweet smelling toilets, was through the San Dimas Technology & Development Center in California. The purpose of the design was to reduce toilet odors at remote recreation sites that may not have electricity for exhaust fans. (Other versions have a solid door and the vent to one side. Some added a small window for light, and some even have solar powered exhaust fans to supplement the airflow.) The bottom photo shows one of the newer buildings. That's all there is to it. It's just another chapter in the evolution of outhouses and another stop on the Outhouses of America Tour.
If you are interested in a very nice web site featuring Arkansas links, here are a couple to follow:
Polk County Web Site Links This is the county the outhouses above are from.
Arkansas Web Site Links This covers all of Arkansas!
---
What else can you see in the images shown? Many times a photo is worth a thousand words and I've only elaborated with a few so why don't you add some "color commentary" to my collection. If your addition is worthy, you will find the quote added on the Comments to the Curator page.
---
Have you seen all the Outhouses yet?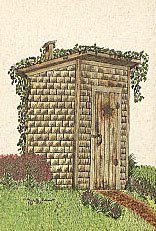 Return to the Outhouse Tour by clicking HERE!
---
Stamp here to "dump" mail to the official Outhouse Curator...

---

Return to my home page
Return to the Top
---
Copyright © 2001-2003
This Home Page was created on October 12, 2001
Most recent revision August 18, 2003