Ontario Heights Friends Quaker Church Outhouses in Oregon
Photo on the Shorpy web site
Read more about it by following this link
---
This photo was apparently taken in October 1939 and shows All the members of the congregation of the Ontario Heights Friends Church located in Dead Ox Flat, Oregon (Quaker). In the picture you can see the entrance to the dug out church. I'm sure there was a reason why they built that way in Oregon. Maybe it was partly to save on lumber and heating fuel and protect against storms. This was in Dead Ox Flat, Malheur County, Oregon. Photo credit goes to Dorothea Lange. We have Quaker friends down in Friendswood, Texas.
Looks like they had Sunday School, Young People's Church, Morning Worship, Evangelistic [something] and Prayer Meeting.
In the back, you can see two outhouses. The one on the left says Women and the one on the right says Men. It looks like the roof is slanted to the back so the doors must have been on the other side. You can see at least one cow grazing in the background.
---
What else can you see in the images shown? Many times a photo is worth a thousand words and I've only elaborated with a few so why don't you add some "color commentary" to my collection. If your addition is worthy, you will find the quote added on the Comments to the Curator page.


---
Stamp here to "dump" mail to the official Outhouse Curator...

---
Have you seen all the Outhouses yet?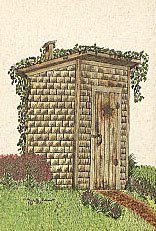 Return to the Outhouse Tour by clicking HERE!


Return to my home page
Return to the Top
RECOMMEND THIS SITE TO A FRIEND!
---
Copyright © 2010


This Page was created on December 26, 2010